Our services
Vous êtes ici :
Our services
Your event is unique and as such, the Grenoble WTC Convention Center team is at your disposal to ensure high quality services in line with your expectations.
Installations
To organise your event effectively, our team is at your disposal offering its know-how and experience to design installations which meet your needs and help you to plan your different spaces. They will adapt to your expectations with a variety of arrangements: theatre, cabaret, classroom, u-shaped, offset, etc. We can also set up staging and scenic installations according to your needs (desks, round tables, warmers and low tables, podiums, etc.).
Other equipment can also be used to decorate and highlight your event.
Our teams produce tailor-made plans for your exhibitions and also take care of administrative matters by drafting the security plan, mandatory for any exhibition.
Complementary equipment
Indoor signage
The WTC Convention Center offers a wide range of solutions and equipment to direct and inform participants as well as to enhance your event and your partners.
The Convention Center is equipped with LCD screens in the lobby and in front of all areas. These screens can be used to provide directions (in particular the screens in the WTC lobby) or information (workshop/meeting name, etc.).
The scrolling or fixed display can be programmed to suit your event.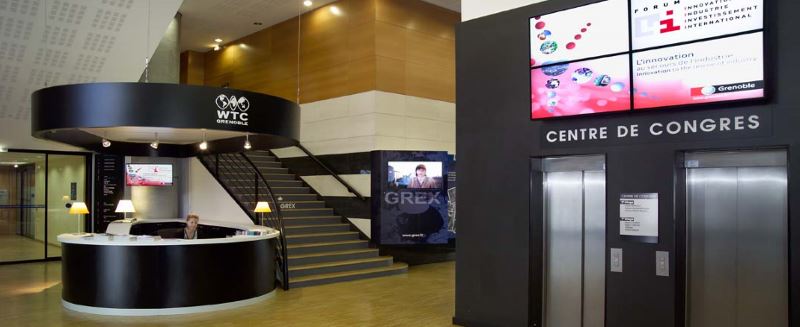 Other types of displays (roll-up banners, indoor banners, umbrella stands, etc.) can be produced and installed in the different areas of the Convention Center.
The "Atrium" space also has a full HD 5,000 lumens video projector and a 3.10 m x 2.30 m screen. The central position of this projection system lets animate your events by showing your programme, photos or videos of your events, your gala evening, sponsor logos, etc.
Feel free to contact us for any further information.
Outdoor signage
An outdoor banner can be installed on the facade of the WTC, alongside Place Robert Schuman. Using your event's colours, this 6 m² banner is a way to improve your event's visibility and direct your participants.
Auditorium video projection system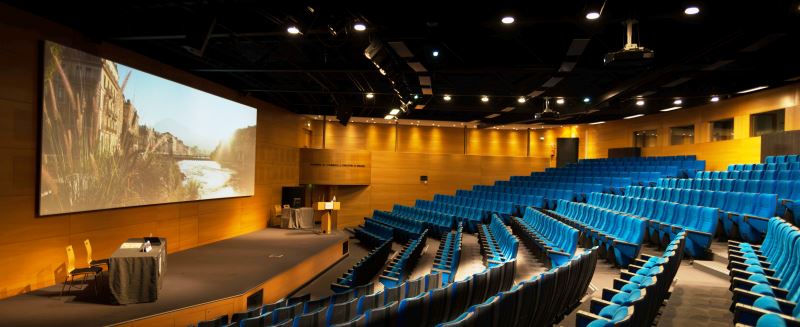 The auditorium is equipped with a full HD video projection system, the only one of its kind in Grenoble, which allows your projections great flexibility.
Coupled with a projection screen 10 m in length and more than 3 m high, this system can handle up to 5 simultaneous sources.
Feel free to contact us for any further information.